Iridium
Terminals
Transport
RST620B TranSAT
(RST620B)
MSRP $2,295 USD
TranSAT RST620B is an Iridium mobile or fixed satellite telephone that provides the option of a handheld or a completely hands free voice and data telephone for a wide variety of marine, land and air applications with a wide range of antenna options available.
Read more product features
Data
Voice
SMS
SBD
Handsfree
Ringer
Mute
Horn Alert
Intelligent Handset
SIM
Phonebook
Serial Port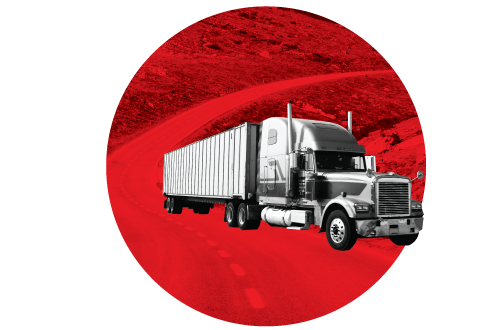 Professional Transport Installation
The TranSAT RST620 operates similarly to a traditional car phone, providing a compact user handset that can be located close to the driver or captain, hands free or private communications, integrated speaker, microphone and transceiver with a professional looking installation.
Key Benefits and Features
• Slim line compact installation
• Voice, SMS, SBD and Circuit Switched Data capable
• Compact fully functional user handset for privacy mode
• Full Duplex Hands-free calling
• Echo cancelling technology
• Mic / Audio Integration to communication systems
• Horn Alert / Radio Mute capable
• RS232 D9 Serial Interface
• Accessory / Ignition sense
• SMA Connectors – Iridium Antenna
• FCC, Industry Canada, and ITU approval
• 12 month repair or replacement warranty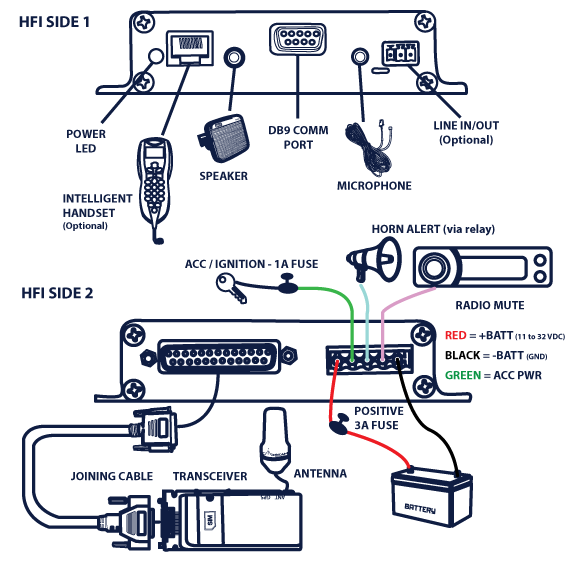 TranSAT Features

The hands-free interface (HFI) enables a speaker and microphone to be connected to the TranSAT terminal and installed anywhere within the vehicle.

The hands-free interface (HFI) also enables the connection to an external horn alert as well as the ability to provide a radio mute output if required. For incoming calls the terminal will ring and the horn with sound.

The Intelligent Handset is a privacy handset with additional functionality such as dial, call and hang-up buttons. It allows the user to have a terminal connected to the intelligent handset or a handset with a long run to still have the functionality of a phone.
Reviews
Antartic Logistics
Antarctic Logistics & Expeditions (ALE) operates the largest seasonal field camp in Antarctica. Situated at Patriot Hills, Antarctica (80 Deg 81 S 081 W), ALE provides support for intercontinental flights ...
Read more
RST620B TranSAT Specifications
Power
| | | |
| --- | --- | --- |
| Power Input Voltage | 11 - 32V DC 2.5A | |
| Power Consumption (AMPS) | 12V DC | 24V DC |
| Standby | | |
| Standby - inc handset | 0.33A | 0.14A |
| Talk/Transmit | | |
| Transmit - inc handset | 0.63A | 0.23A |
Connectors / Interfaces
Microphone
2.5mm mono
Speaker
3.5mm mono
Intelligent Handset
RJ45 DPL BUS
Data Port
RS232 Serial Interface
Transceiver
D25
LEDs
Power - Green
Power/Horn/Mute
5-Pin Connector
Line In/Line Out
3-Pin Connector
+10dBV or 0.3V RMS (2V Peak to Peak Max)
Input Z=50k Ohm, Output Z=1.2K Ohm
Environmental
| | | |
| --- | --- | --- |
| Temperature | Degrees °C | Degrees °F |
| Operating Range | -30°C to +60°C | -22°F to +140°F |
| Storage | -40°C to +85°C | -40°F to +185°F |
| Humidity | 25-75% RH non-condensing | |
Physical
| | | |
| --- | --- | --- |
| Dimensions | mm | inches |
| 9522B w/ Mounting Bracket | 185.2 x 81.4 x 29.8 | 7.29 x 3.20 x 1.17 |
| HFI | 186 x 130 x 27.3 | 7.32 x 5.11 x 1.07 |
| Weight | kg | lbs |
| HFI modules | 0.5 | 1.1 |
| L-band Trxvr | 0.6 | 1.3 |
Kit Contents
Hands-free & power interface (HFI)
Intelligent Handset
Speaker & Microphone
Iridium 9522B Transceiver module Main terminal
Cable assemblies: DC Cables, Interface Cables
Mounting adhesive / velcro
CD - Beam Management System, AT Commands, Manual
User & Installation Manual
Certifications
Iridium Approved
EMC Compliance
Electrical Safety
IEC60945
Independent Aeronautical certification MUST be gained prior to installation
Brochures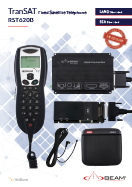 Visit our support page to download manuals, qsg, firmware upgrades for this product
Product support
Testimonials
Antartic Logistics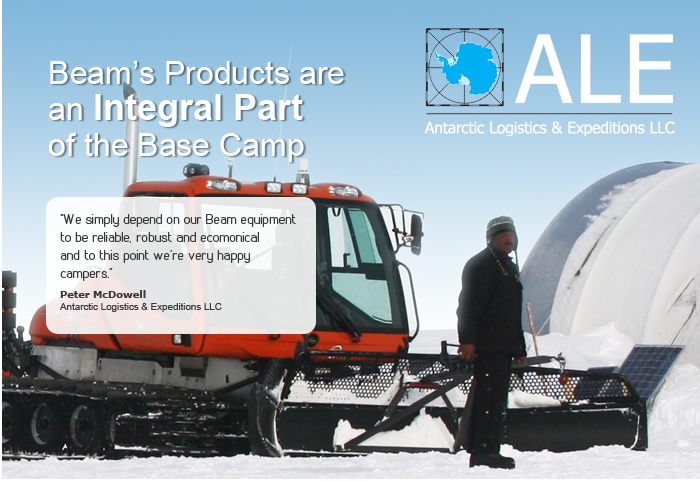 Antarctic Logistics & Expeditions (ALE) operates the largest seasonal field camp in Antarctica. Situated at Patriot Hills, Antarctica (80 Deg 81 S 081 W), ALE provides support for intercontinental flights for tourists visiting the South Geographic Pole such as:
- travels from Chile to the Patriot Hills Blue Ice Runway;
- private expeditions to climb Antarctica's highest Mountain, Mt Vinson;
- adventurers making the long journey man-hauling to the South Pole from various points on the coast;
- short journeys using essentially man power to haul a sledge under the tough conditions on the Polar Plateau.
In addition ALE also provides logistics support for organizations such as British Antarctic Survey, National Science Foundation and KOPRI (Korean Polar Research Institute) as required for research and development within the vicinity of Patriot Hills. Unlike many organizations, ALE do not have the resources to solve issues arising from poor equipment selection, rather it must rely on the first time selection of reliable and durable equipment that are cost effective.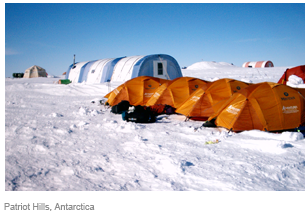 Reliable communications is not an option rather it is an imperative component in the base camp. Beam's products are an integral part to their services, the RST100 base station units, RST600 data units and RST620 units have all proven to be robust and functional under the tough conditions. In particular, the RST620 unit installed in one of the Prinoth BR-350 SnoCat hauled traverse trains travelled a remarkable 3200 kms over 40 days starting in late December 2007. Throughout its journey, the RST620 never missed a beat in the important role of providing daily situation reports back to base as the traverse train made the long haul from Patriot Hills up the South Pole, then onward toward the South Pole of Relative Inaccessibility and return.
Peter McDowell, one of the partners who formed Antarctic Logistics and Expeditions said, "We simply depend on our Beam equipment to be reliable, robust and economical and to this point we're very happy (snow) campers."