SY Ranger
"Regular weather reports are crucial on our 14 days long trips"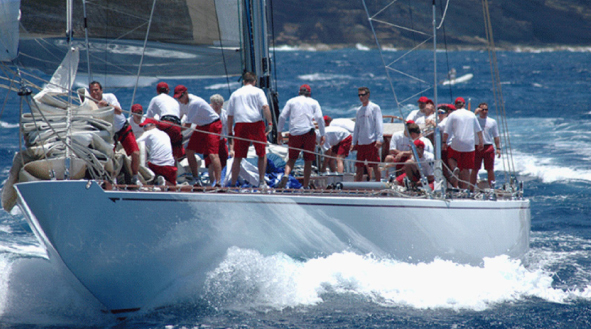 Ranger was completed in late December 2003 and departed Denmark in early January 2004. After a successful transatlantic crossing Ranger cruised the Caribbean before commencing her racing program in April. Early April saw Ranger competing in the St Barth's Bucket race for yachts over 100ft., which this year had an excellent turnout of 22 yachts. Despite light winds on both days Ranger performed very well in the event, allowing the crew and guests to get some valuable practice before the more official and demanding Antigua Classic Regatta. Ranger is now preparing for the 2013 season, which kicks off with the St Barth's Bucket. This regatta will see five J boats on the start line racing for the hundred Guina Cup as well as the Bucket J Class award.
Weather reports are vital
The crew uses RemoteSAT to download weather reports when they are off shore. They sail from the Caribbean to either Newport R.I or Palma Mallorca twice a year and on those trips the satellite equipment is used.
"We have a fuel range of about 7 days and the longest legs of our transatlantic passages are 14 days long, so we need to sail for at least 7 days, which makes the weather info we download vital" said Mark O'Brien, Engineer at the SY Ranger.

Reliable phone
RemoteSAT RST100 combines the robust design with the intelligent technology to support RJ11/POTS, voice and data services over the Iridium satellite network. The RemoteSAT terminal is equipped with a range of interfaces to support the use of standard corded/cordless phones or integrated PABX communications. RemoteSAT RST100 also gives the option to access voice services using a compact intelligent user handset.