Time Bandit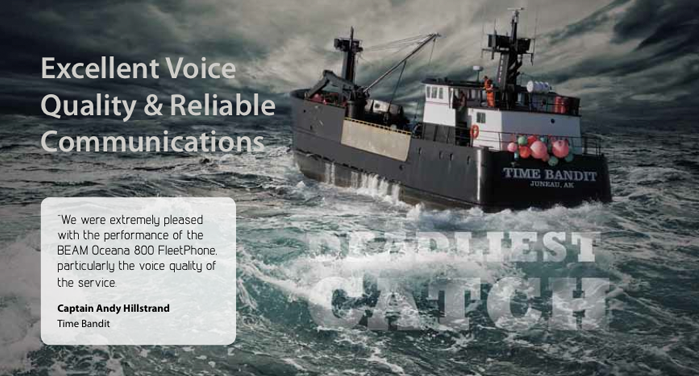 Time Bandit, the 34.44 metre-long (113ft) boat, named after the motion picture of the same name, is only on a mission to capture king crabs rather than human beings. And although the exterior of their boat looks similar to a pirate ship from yesteryear, both of them prefer to rely on the latest modern technology systems while working off Alaska in the Bering Sea. Along with their four-man crew, they put BEAM's Oceana 800 terminal accessing Inmarsat's new low-cost satellite phone service, FleetPhone, through its paces. "We were extremely pleased with the performance of the BEAM Oceana 800 Fleetphone - particularly the voice quality of the service," said Captain Andy.

Weather reports
"We've been using it to call in for weather reports and to keep in touch with fish processors, as well as family and friends. Everyone we spoke to on the phone commented on its clarity saying they could hear us so well." The Oceana 800 FleetPhone Terminal phone was supplied by the BEAM Communications, with airtime from Inmarsat distribution partner Stratos.
Emergency calling
It offers mariners a host of features, including global coverage for its voice, text and low-speed data services, as well as Inmarsat's SOS emergency calling capability and an additional SIM for multiple users. Brothers Andy and Johnathan Hillstrand and their crew may take to the seas in a vessel resembling a pirate ship. But unlike the buccaneers of old, they prefer to rely on modern communications like FleetPhone (Inmarsat's new low-cost satellite phone service) while fishing in one of the most dangerous seas on the planet. "We were anticipating that the sound quality and reliability of the terminal might not perform in the areas we venture to, but the phone exceeded our expectations." The unit even provided service going through False Pass - except for a very narrow spot with steep mountainous sides, and however to be fair this is a location where our old other satellite equipment could not provide any service at all, said Captain Andy.
Voice quality
"And unlike our old satellite service, which couldn't be relied on 24 hours a day, with Fleetphone we found we could make calls at any time of the day and guarantee a connection". The voice quality of the FleetPhone came in particularly useful when the crew dialled into the National Weather Forecast Office in Alaska for weather predictions. Captain Andy said: "Getting the weather forecast can literally be a matter of life or death for s and voice quality is important because we have to state our position before we can get the forecast."
Reliable phone
The brothers - who are both third generation Alaskan fishermen - named their boat after the movie, Time Bandit, because they say "the sea steals your time". But having a FleetPhone helped them make up for lost time, especially when it came to getting their catch processed. Captain Andy said: "Around 60 fishing boats get their crab catches processed at one of two plants, and we need a reliable phone to keep in contact with staff at the plants."